Asking sustainability questions at general shareholders' meetings
Since 1995 we have been a loyal visitor to general shareholders' meetings (AGMs). Every year, we ask critical questions (engagement) to the directors of around 40 Dutch, listed companies, to promote sustainable business operations.
These questions relate to three ESG (Environmental, Social & Governance) themes, over a period of three years. Every year we change one theme so that we stay up to date and gain insight into the performance of companies within a theme over several years. In 2022, VBDO asked questions about biodiversity, working conditions in the chain and diversity. 2023's themes are lobbying, supply chain labour conditions, and biodiversity.
AGM calendar 2023
An overview of our planned AGM visits can be found in our 2023 AGM calendar.
AGM engagement report & webinar
This season's findings will be stated in our annual AGM engagement report and presented by the end of June, or the beginning of July. The 2023 engagement report is our most recent edition. The results were discussed in the AGM Engagement Seminar 2023.
Collective engagement
In 2022 we started with a collective engagement trajectory for biodiversity in the mining sector. Also scheduled are plastic pollution (on the demand side), and deep sea mining. VBDO's collective engagement consists of, among other things, extensive research and setting up working groups, with the ultimate aim of engaging in discussions with underperforming companies.
VBDO's engagement process
The high degree of effectiveness of our engagement has been demonstrated in various studies. This success can be largely attributed to our proven and continuously improved engagement process.
Our process
Engagement at each AGM is preceded by in-depth research of the company's sustainability performance over the previous year. This research included analysing the company's annual report and sustainability report(s), as well as undertaking web-based research and consulting with relevant experts and NGOs.
Following these analyses, relevant issues are selected and questions are formulated. The questions are shared with the selected companies and VBDO conducts meetings and calls prior to the AGMs in order to enhance our understanding of each company's strategies and performance. Based on these conversations, VBDO then selects the most material questions to ask each company's Board of Directors at its AGM.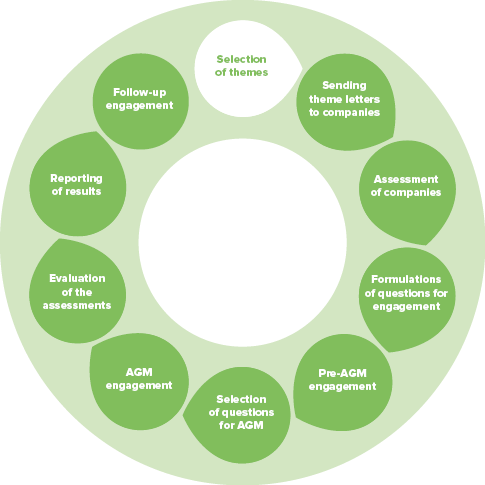 VBDO strives for an open exchange of ideas about a company's sustainability policies and practices, to improve overall sustainability performance. The figure above shows our AGM engagement process. The process is updated and developed over the years where necessary to ensure that we have the greatest possible impact.